My goal of 30 blogs in 30 days for
Music In Our Schools Month
failed, but I hope you gleaned some great information from the
blogs
I did post.
Today, I have a dual purpose in my writing. Yes, I'm going to talk about music education, but I'm also going to focus on social media.
There are so many music programs which are just as passionate about music's inclusion in education as I am. I believe they too have read the research and understand the importance of music aiding in the learning process. Or, maybe they just like teaching music?
I've spent a lot of time googling music programs, both those included in schools and those that are independent from schools. Of course many of the music programs for the youngest children are independent unless these children are attending a high quality preschool/nursery school program.
One common problem I've found with these programs, however, is their lack of
social media
presence. In today's world, you can't just post a flyer at your local store or laundromat. Even an ad in the newspaper isn't enough to draw attention to your program. Those places aren't where people are looking anymore.
So where should you be advertising? Anywhere and everywhere online.
Consider this: as of 2014,
72%
of all
Facebook
users visited
Facebook
once a month. How many people is that? Just a little over 1 billion. And, as of January 2015, almost
900
million people access
Facebook
on a daily basis. With that big of an audience, why wouldn't a music education program want to advertise on
Facebook
? And, it's so simple to make a
Facebook
page and share at least weekly or bimonthly what's going on in your program.
What's next? How about
Twitter
?
Twitter
is the third most used social network behind LinkedIn and
Facebook
. As I am focusing on music programs advertising to parents, I'm going to skip LinkedIn. LinkedIn does provide excellent opportunities for networking and possible continuing education, though. Both
Twitter
and Google+ boast an engagement of approximately
300 million users each
. How is that for an audience. So, I ask again, why wouldn't a music education program administrator not want to make his mark on Google+ or
Twitter
?
Twitter
, after all only requires 140 characters which could include as simple as a link to your
Facebook
page! Google+ is a great place to provide an audio sample of children making music. (I mention audio sample rather than video due to maintaining privacy of the students).
And, third, perhaps the simplest way to get the word out is to have a website. Now your website can simply be your Facebook business page, but I would recommend having a separate site. Blogging websites such as
Blogger
or
Wordpress
allow you to have a site for free as long as you use their site as the domain, i.e., mymusicprogram.blogspot.com, and both sites are extremely user friendly. What's even better, once you're ready to buy your own domain, i.e., mymusicprogram.com, both
Blogger
and
Wordpress
can be easily integrated into that domain so you won't have to pay more than about $15 a year for the domain name. Another bonus? There are ways to provide links on your website that can earn your organization money!
These three options can greatly expand your brand and increase your enrollment, so I encourage you to explore this simple, let's call it homework.
Finally, I understand not everyone is tech savvy, especially those of you who barely use the internet and don't have any social media profiles. That's okay. You're not alone, but don't miss out on the opportunity to find new students. One organization,
Valkeryie
, offers a myriad of options from the
basics
to
complete management
of all your social networks and websites.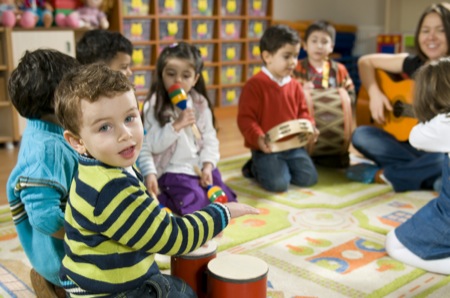 I would love to hear updates from those organizations that have yet to expand their reach beyond a simple flyer or a mass mailing. Let me know once you get your social media networks set up how many students you have added to your classes or if you've found networks to help improve your knowledge of music education!